When was the last time junior slept? How much did he eat? Is he getting enough sleep at night? Baby Bix is really great at helping Mom's remember, which definitely isnt our strong suit.
Baby Bix tracks feedings, diapers, sleep schedule, solids and more. It is really easy and covienient to track. You can either use the quick entry tab (which is easiest if your logging it right that second)
Or you can go back and set past events. Helpful if you were in a sleep deprived stupor at 3 AM. You can also log in via their website and track, and even email the logs. It's very handy, I wish I had it way back when I was a nanny. It would have made the communication between the parents and I much more efficient.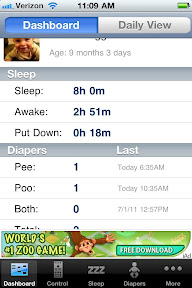 Handy summary page.
Ethan's sleep schedule so far today.
Baby Bix also tracks weight, height, and head measurements, along with firsts. As you can see, E is a tall dude :)
I totally recommend this app to any mom. You can get it through the iTunes app stores, and guess what? It's free!
- Posted using BlogPress from my iPhone