So, in light of becoming a Scentsy Consultant, I thought I'd do a little giveaway! I've always planned on doing one, and I was even thinking of doing one with candles (my most favorite item in the world!). Now that I'm partial to a candle company, I must do a Scentsy Giveaway! One lucky winner will recieve this warmer, and 2 bars of Scentsy Scent (Welcome Home and Vanilla Cream).
Chianti!
Mmm Vanilla and Cream!
I got this scent with my starter kit and it is a fav!
Now here comes the nitty gritty. Here are ways for you to enter!
1. Comment here, on my blog, and tell me your favorite thing about the holidays.
2. Visit my
Scentsy Shop
and comment on this blog, telling me which warmer is your favorite.
3. RT this message on twitter: "RT @meattatersmama I just entered to win a Scentsy warmer and 2 bars of scent! Check it out:http://bit.ly/twBi6a" Comment here, telling me you have done so.
4. Like my
Facebook page
, and comment here telling me you have done so.
5. Follow me on
Twitter
, and comment here telling me you have done so.
6. Follow my blog! Comment telling me you have done so.
Don't forget to leave your email address on at least one of your entries so I can track you down if you win!
That's it! The winner will be drawn on November 11th, 2011 at 9PM PST. Good luck!
18 years and only, USA only please :D
ETA: I noticed some of the entrants have condensed their entries into one comment. I will be using random.org to pick a winner, so I would make each entry separately if I were you! Also, no multiple entries please. Thank you!
11/11/11: Our winner has been chosen via Random.Org!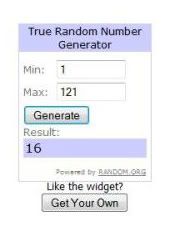 Congrats Lea! Sending you an e-mail right now. Stay tuned to my FB page for some more giveaway goodness in the coming weeks!