So I've been putting off making these for a while. A great friend of mine loaned me a
Cricut Expressions
machine, and let me tell you - it is so awesome! I feel like I can do anything with this machine (yes, anything). Fortunately instead of tackling world hunger, I decided to make Ethan's birthday party invites.
The Cricut makes it really easy to be creative (I don't feel like I have a creative bone in my body). It really just cuts it out and all you have to do it paste the layers on top of each other. Super easy. You can really do this card for any type of animal theme; I used the Create-a-Critter cartridge for the puppy and doghouses.
Blurry picture of the Cricut at work.
The finished product after all the layering and pasting is done.
To make the card bases I used 8.5 by 11 cardstock, and cut it straight down the middle with my Fiskars Paper Trimmer. I really love this trimmer because it has a handy wire down the middle, so you can see exactly where you are going to cut.
I folded the paper in half with a boning edge. Makes the edges nice and crisp!
For the sky I cut blue paper that was 4.25 inches by 5.25 inches. The grass was 4.25 by 3 inches, to allow for room for the border punch. The punch I used was Fiskars too, but I'm sure you could use any decorative edge and it will still look great!
Bottom sky layer with the punched "grass" pasted on top.
The final product!
Finally, I used pop dots to paste the puppy and the doghouse on the grass. All I need next is to print out a "Party" font, and the insert that will show the details for his birthday! It was a lot of work but I had a ton of fun!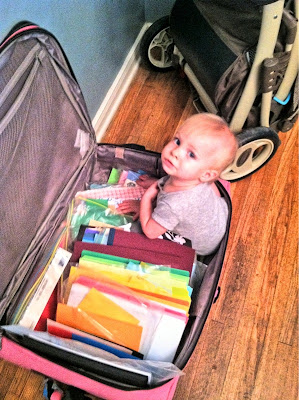 Ethan decided he wanted to help. It was not very helpful.