So we (I really should say Austine, as I did barely any work) managed to get
most
of the painting done this last weekend. Although the garage and some touch ups still remain to be done, we both feel really accomplished right now. Fortunately for us, we had help! Austine's brother and cousins are awesome, we definitely couldn't have done it without them.
The "man" hard at work.
I soaked the old mail slot in paint thinner.
The old paint bubbled off, and then I set to work with a scraper.
The mail slot paint-less. It looks red because I need to get some brass polish, it's tarnished!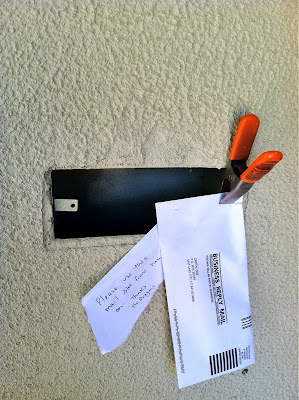 Our mail hole, haha. Slotless for now.
You can see the trim color we picked out on the bottom lip of the sill. Needless to say we aren't going with that color anymore .
The side of the house.
Our bay windows.
Sunset at the Duggan's!
We still have a lot of work to do. Fortunately, all the windows need to be painted white, and a lot of the sills need to be repaired before we can paint the trim color (which we haven't decided on). The we have the grass to redo, the retaining wall to replace, borders to build, bark to place, backyards to fence, trees to remove, more grass to plant. It just doesn't end. Since we haven't been paying my parents rent we are paying for it through labor!
I do feel sad though, because I feel like I've really poured a lot of emotion and labor into this house, and it will never be "ours". I hope someday we will have a house that we can make our own even more than this house, but I don't really think it will be in California. Both Austine and I are facing the realization that if we stay here, we will
never
own our own house. It's a sad truth. For the moment, however, I refuse to let that weigh me down. Instead I'm celebrating this house looking the best it's looked in 30 years!